Search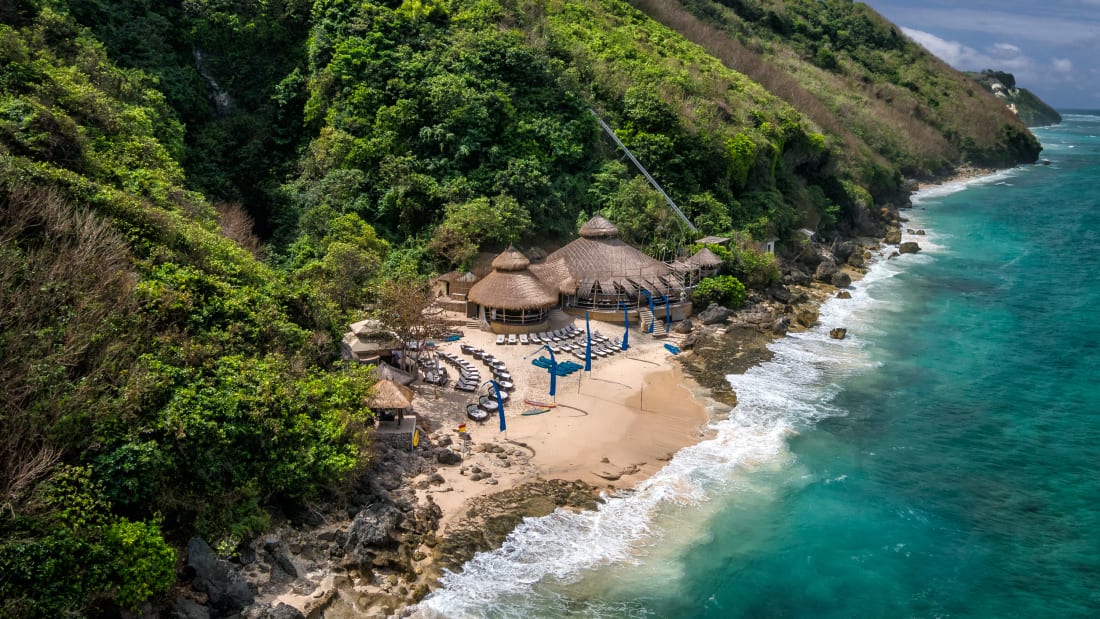 BEST BEACHES
Theodora Sutcliffe, CNN • Published 23rd May 2018(CNN) — Bali is an island in flux -- especially in the south. It's a maelstrom of construction: villas, roads, jetties, reclamation. A magnet for tourists for generations, the island welcomed over five million international visitors in 2017.
So you'd expect pretty much every beach along the coast to have been colonized by sunbeds and invaded by travel groups long ago.
Mercifully, that's not the case. But secluded beaches on this island in Indonesia generally don't stay hidden for long. It's not uncommon to turn up at a formerly entirely secluded beach and find a new access road, a ticket desk, several warungs (restaurants), three determined village ladies peddling sarongs and a van load or four of organized tourists.

For the connoisseur of secluded beaches, the place to start is the Bukit peninsula, the egg-shaped bulge that protrudes from the bottom of Bali as though the island has just finished laying it.
Sculpted, towering limestone cliffs create myriad little bays, with sand in hues from gold to creamy white. Challenging descents -- sometimes involving hundreds of rock-cut steps -- promote seclusion every bit as dramatically as they tone the quadriceps. Here are six of Bali's top secluded beaches where you can play with a little privacy:
Related contentAsia's hot list: 22 luxurious new hotels opening in 2018

1. Karma Beach
Aspiring sybarites can skip the hip-and-thigh workout and head for Karma Beach, a private beach club at Karma Kandara, with stylish bungalows and a glorious cliff-top spa up above (a second spa is set to open on the beach by 2018).
A dinky cliff railway cruises down through monkey-filled forest to an expansive pale sand bay where fringing reef creates a sheltered, turquoise lagoon.
The chic beach bar-cum-restaurant serves good cocktails alongside international cuisine with an emphasis on seafood: local lobster, served sweet and simple, grilled with butter and garlic, is amazing.
Admission costs 500,000 rupiah (US $38) and 300,000 $23) of this serves as credit for food and drink.
Related content21 of the world's most beautiful beachfront hotels

2. Thomas Beach


Thomas Beach sits between two popular Bali surf breaks.
Shutterstock
On more of a budget? Thomas Beach is nestled between two of Bukit's most iconic surf breaks, Uluwatu and Padang Padang Look for the sign to Thomas Homestay and follow the white dirt track.
Golden sands, turquoise waters and sculpted rock formations framed by towering cliffs, lava rock and shrines make the beach -- technically part of Padang Padang Beach -- one of the Bukit's most attractive.
It's fairly rare in Bali to be able to sleep right by the ocean on a budget, but besides food, drinks and surfboard hire, there are simple (if overpriced) homestays bang on the sands.

3. Nyang-Nyang
Nyang-Nyang is another classic, concealed beach that delivers the Bukit trifecta of golden sands, rugged cliffs and turquoise ocean.
Backed by a meadow where cows occasionally graze and patches of jungle, it feels quite deliciously remote.
Apart from a couple of cold drink sellers, a handful of junk sculptures and some nests carved out of the jungle, the beach is currently undeveloped.
But the new track down the cliff, while steep, is quite the picnic compared to the 500-odd steps of yore, so that is changing fast.
Related content19 fabulous places to take a skinny dip

4. Tugel Bias


Tugel Bias beach, Bali.
Shutterstock
Despite the Instagram clichés, many of Bali's beaches are black, brown or gunmetal grey -- occasionally interspersed with surprising patches of white-gold sand.
Tugel Bias, a little cove just south of the ferry port at Padangbai is one of the cutest of these white sand anomalies.
It's accessed via a blocked gateway with a sign advertising 'WHITE SAND BEACH.'

5. Kedungu
Out of the wealth of dark sand beaches, Kedungu, a surfing beach not far north of the famous sea temple at Tanah Lot, is ripe for discovery.
It's a peaceful place, fringed by palm groves and rice fields, where the sweeping curve of the breaking waves seems to stretch on and on into the distance.
It's about a 30-minute drive from the Canggu resort village.
Related contentUbud: Inside Bali's cultural epicenter

6. Nusa Penida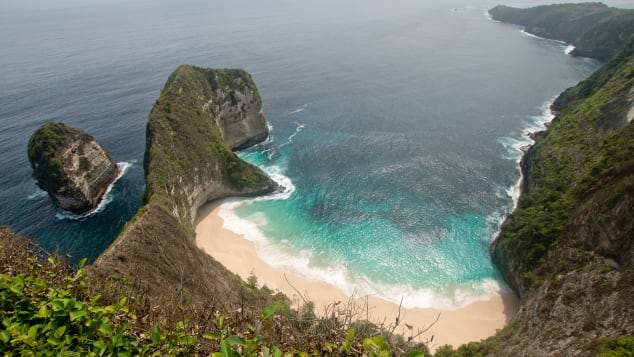 Nusa Penida: Jaw-dropping spots between the cliffs.
Shutterstock
For pristine -- and largely unfrequented -- beaches it's worth heading off the mainland to Nusa Penida, around 40 minutes by speedboat from the port at Sanur.
Here, the limestone coast has eroded into spectacular forms -- natural arches, broken bays, sea caves, freestanding pillars and more.
And, though some of the more accessible beaches have been given over to seaweed farming, nestled between the cliffs are some jaw-dropping spots.
To the south of the island, Pantai Atuh is a seductive curve of golden sand looking out onto a sheltered bay where an encircling promontory descends to a startling, jagged arch and scrub-clad pinnacles surge from the ocean.
Related content40 Indonesian foods we can't live without
A hundred-or-so steps lead down from headlands on either side of the beach, where the staff of the simple palm-thatched warung may well be your only company.
On Penida's west coast, with views across to neighboring Nusa Ceningan, the giant mola-mola fish draws scores of dive boats to Crystal Bay in season, and the beach fills up with snorkelers and day trippers.
Stock up at the warungs for the 20-minute hike over the headland, where white sand Pandan Beach, backed by palm-clad jungle, is usually deserted.
Further south, beyond the startling rock formations known as Broken Bay and Angel's Billabong, lies what's perhaps the jewel in Penida's crown: Kelingking Beach.
A terrifying rock-cut path, in places more climb than hike, leads down a cliff and along the spine of a razor-sharp promontory. The reward? The most flawless half-moon of white sand, backed by shady caves, fronted by gin-clear waters, and apparently untouched by human hand. Though Instagrammers may gather at the top, the beach itself provides splendid isolation -- the perfect contrast to the busyness of Bali, still visible across the strait.