Best Asia real estate editor's comments:
It appears that Australians are getting bullish on their real estate prices once again.
Their main argument is that interest rates are extremely low therefore Asutralians will want to buy property, especially in areas where they are down from previous highs.
I've had a pretty good track record of predicting real estate trends around Asia, especially Singapore, Bali and Australia.
When everybody was thinking that Australian real estate had nowhere to go but up I turned bearish in 2017 when I started to see the government put brakes on Chinese Buying which was the main reason prices were soaring at the time.

It's been my experience over 40 years in real estate whenever government receives pressure from their citizens to stop price escalation the end is near.

Sure enough prices dropped in most places in Australia and even in Perth which this article is discussing.

Since then prices in most Australian cities have gone south.

As it says below in this article printed two days ago "The city's median property price is now lower than it was a decade ago at $495,000. It peaked at $545,000 in 2014 but has been falling ever since, to $475,000 last month."
Although as in any place in the world prices will go up in the future in Perth I'm not so sure it's going to happen in 2021.

Why? Simple, most Australians have been under lockdown for the last 10 months. A large amount of their savings was used to cover their monthly expenses.

With talk of not allowing any tourists in during 2021 there's very little chance of those related to the tourism industry recovering and having any money for real estate next year.

And finally and most important there's not a day goes by where China is not arguing and becoming really upset with Australia.
The Chinese buyers were the ones that fuelled the last rise and I don't see them coming back in the very near future. Especially if they can't even get into the country on a visa.

So the bottom line is if you have substantial savings it would make sense to try to buy a property at these prices at today's mortgage rates. Otherwise do not buy for speculation. You may get burnt.

Perth's property market forecast for big rise
By 9 News Staff 9:35pm Nov 17, 2020


Perth's property market is on the rebound, experts say, with vendors welcoming rising prices after a battering by COVID-19.


"The number of buying enquiries that we're getting through on a day-to-day basis is probably double that to what we were getting about a month or two ago," real estate agent Richard Clucas told 9news.

Perth properties have dropped from an average of 55 days on the market to 28. Homes in Subiaco, Kingsley, Rivervale and Darch are selling in less than a fortnight on average, with Mt Hawthorn, Swan View, Beechboro and Coolbellup not far behind.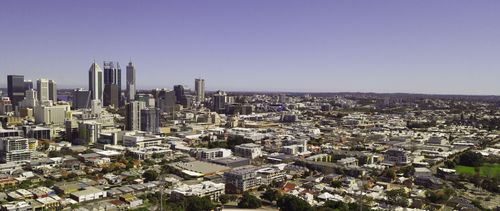 Property prices in Perth are set to rise. (Hamish Hastie)

ANZ is predicting a 12 per cent surge in property prices for the Western Australian capital — the largest jump for anywhere in Australia.
But the state's peak real estate institute, Reiwa, has forecast a rise of about five per cent.
"It's a fairly optimistic and bullish forecast," Reiwa president Damian Collins said.
"We've got a shortage of stock, we've got very strong demand, the economy is doing well, and with the mining sector performing particularly strongly, there's no doubt Perth property prices are on the rise."

The city's median property price is now lower than it was a decade ago at $495,000. It peaked at $545,000 in 2014 but has been falling ever since, to $475,000 last month.

"Whether or not that's temporarily or if that's something set to stay for the foreseeable future, we'll find out in 2021," Mr Clucas said.