NEWS - Muhammad Choirul Anwar, CNBC Indonesia Wednesday,
September 30, 2020 4:42 PM
SHARE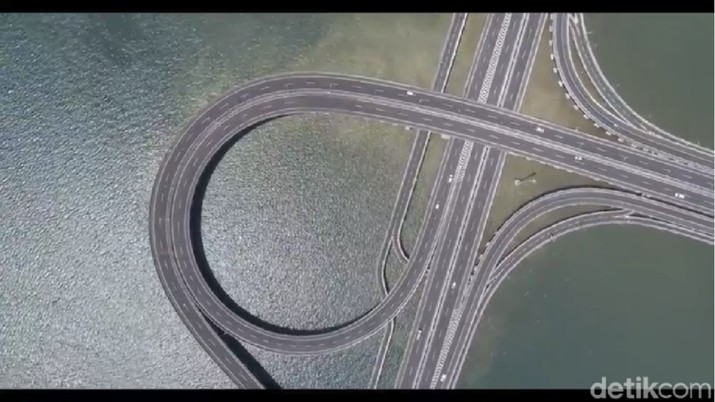 Photo: Photo: Doc. Jasamarga Bali Toll Road



Jakarta, CNBC Indonesia - The Gilimanuk-Mengwi Toll Road project will be the second toll road after the Bali Mandala Toll Road in Bali Province.
Toll road across 3 districts in Bali will operate gradually from the end of 2022.

Member of toll road regulatory agency (BPJT) academic Eka Pria Anas explained that this toll road will cover 3 districts in Bali Province namely Jembrana Regency, Tabanan Regency and Badung Regency.

"The trase or route of gilimanuk-mengwi toll road starts from the inter-island ferry port at Gilimanuk Port and travels south of Bali to Denpasar. It's around Mengwi," he said in market sounding project KPBU, Wednesday (9/30/20).


EDITOR'S CHOICE
Ukip's Nigel Farage says he's 'not going to vote for Jeremy Corbyn'
2022 Bali Targeted Already Has A New Toll, Motor May Enter

This toll road will be built to accommodate vehicles from West to East and vice versa, as well as an alternative route from Gilimanuk Port towards the capital of Bali Province, Denpasar.
This toll road is also prepared to anticipate the volume of traffic with the connected strategic development areas.

The project also looked at RTRW Bali 2009-2029. As for accessibility routes to and from tourist areas, it is currently being developed by the Bali Provincial Government.

With a total length of 95.51 Km, the toll has a shoulder width of 1.5 m and an outer shoulder width of 3.0 m. The length of the motor lane is 41.3 Km.
The highway is divided into three sections.
Section 1:
Section 1 with a length of 54 km connects Gilimanuk and Pekutatan.
Section 2 with a length of 23.6 km connecting Pekutatan and Soka and finally Section 3 along 21.8 km connecting Soka and Mengwi.
As for the construction built in his stage.
The first starts of Section 2 and 3 are targeted to start in 2021.
Then, if the construction of both sections is completed in 2022, then the government immediately resumes construction of Section 4 and is targeted to operate starting in 2024.

"If indeed ppjt signature (Toll Road Business Agreement) can be implemented in June 2021 then construction (started) third quarter or IV-2021 and the next year and a half can already operate section 2 and 3, and the next operation in 2024 for section 1," said Eka Pria Anas.


Note This Diagram is a very huge guess at where final toll road will run.

As one who has travelled dozens of times on this road, especially on my many ventures to Java over the last 23 years I can tell you it is one of the slowest and most dangerous roads in the world right now.
I can guarantee you many lives will be saved once this toll road is complete.
I can also assume that properties along the way, especially Beachfront & Beachview properties more than an 1 1/2 to 2 hours from Denpasar will increase in value dramatically.
I am very bullish on the surfing village of Balian which is one the most beautiful places in Bali.
400 % to 1,900 % Increases
To give an example of how of how much property values can increase in the coming four to five years I am reminded of the new four lane road road that runs up the east coast of Bali from northern Sanur and ends at close to Padang Bai, the Eastern Bali ferry terminal.
I began scoping out properties 21 years ago while the road was under construction.
The first property I sold to a client was 10 only Million Rupiah Per hundred square metres. It is now at least 200 million per hundred square metres. A whopping 1,900 % Increase
Beachfront properties sold closer to Sanur for as little as 40 million per hundred square metres are now selling for 500 million per hundred square metres. An 1,150 % increase
Buy on the Rumour Sell on the Fact.
There is a famous saying in the investment market that took me years of trial and error experiences to learn before I successfully invested in commodities and stocks.
The saying is "Buy on the rumour and sell on the fact."
What that means is by the time you hear on CNN that something is a good investment such as gold it's probably too late.
You have to buy when solid, reliable research indicates there's going to be a major change in demand or supply that will affect gold prices.
The same thing is true of real estate. This rumoured road for many years now appears to finally becoming a reality such as the toll road that runs from Denpasar to the airport and Nusa Dua.
Properties still available for only IDR 30 million ($2,000) per hundred square metres.
The beautiful thing about buying on the rumour of this new toll road is properties along it's route are selling at ridiculous low prices.
For example you can buy this 7,700 m² property with beach view of fabulous Bali on beach only an eight minute drive away for as little as IDR 30 million per hundred square metres.
HUGE BEAUTIFUL GENTILE ROLLING HILLS WITH AMAZING OCEAN VIEW.
This gorgeous Bali distress priced real estate features Bali beach View land Located only 2.2 km, or approximately eight minutes from one of Bali's most famous beaches, BALIAN.
It is only a one-hour drive from the busy Seminyak area.
Although it has plenty of restaurants and hotels to cater to your desire for great cuisine with fantastic sunset views it still maintain its Village ambiance.
It has some of the best surf in the world.
This 7700 m² (1.92 acre) Bali property is perfect for development of luxurious villas or residential homes. It could also be a great long-term investment for land banking.
Priced at only $158,888 this Bali property is priced for quick sale by a distressed owner who needs cash during the coronavirus crisis.
She is selling it for almost $100,000 off of her previous asking price.
No doubt it will not last long at this price so act quick to inspect or ask for further information.
Limited Availability Inquire Now to Avoid Disappointment:
Interested parties please contact the owners Azizah directly at 62-8123814014 or Email:
lbptbali@gmail.com
You may also contact our Agent: Yanthi at +62 815-5890-0389 or our Reception at
See more details and photos at this link