Government's decision to close all schools to help contain the outbreak gives exodus a fillip
Illness threatens city's ability to keep and attract talent



Alison Tudor-Ackroyd Published: 10:00am, 16 Feb, 2020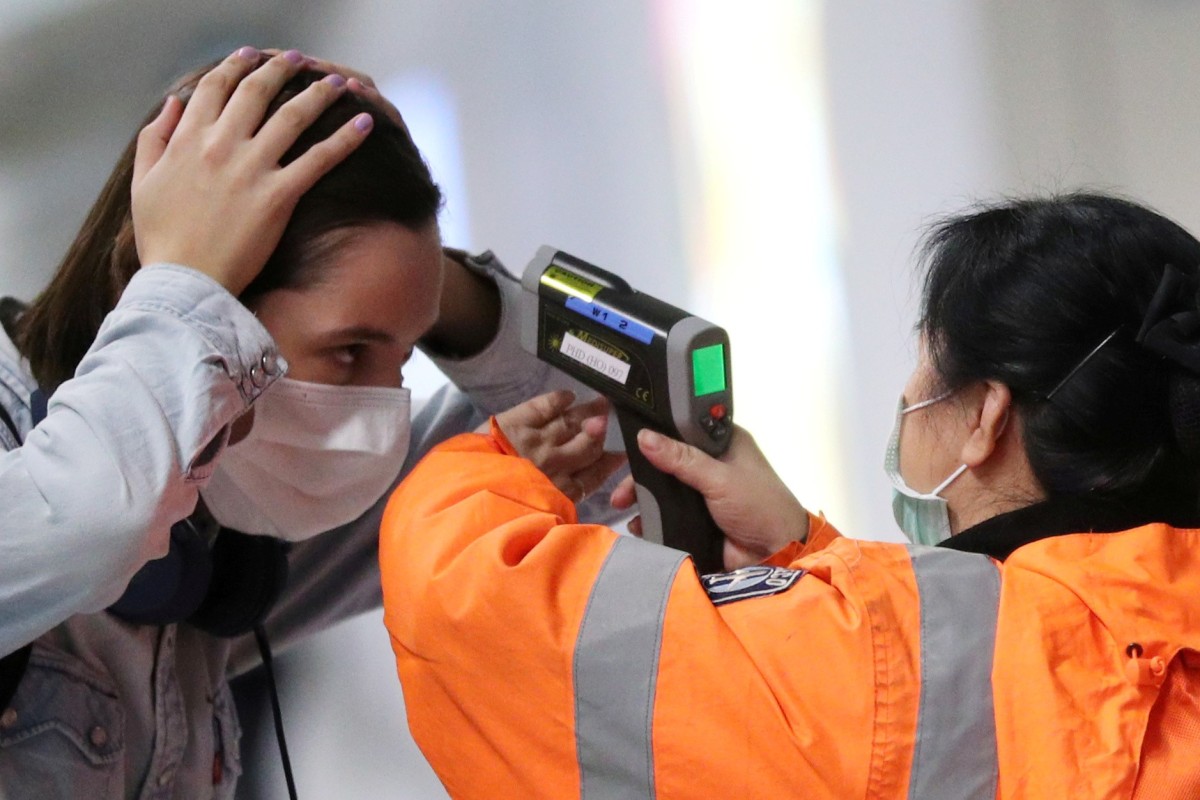 A passenger has her temperature taken at Hong Kong International Airport. The city's anti-government protests and the Covid-19 outbreak are proving to be catalysts for life decisions among its residents. Photo: Reuters

As a cordon sanitaire tightened around Hong Kong and the local population stockpiled surgical masks, rice and toilet paper, local flag carrier Cathay Pacific quietly laid on extra flights to far-flung destinations such as New York and Vancouver so that people could escape the city.
Sami Hine joined the throngs deserting Hong Kong to wait out the
new coronavirus.
She frantically searched for a mask for her child to wear on the plane. "I'm flying back to the UK tomorrow night with my daughter to escape this virus madness," she said in a local chat group for mums. Others commented on the thread that they too were leaving.

Anxious Hongkongers are looking to beat multiplying border restrictions, such as Taiwan's 14-day quarantine for anyone arriving from mainland China, Hong Kong and Macau.

And although Cathay might have boosted flights to John F. Kennedy International Airport in New York from 11 to 14 a week, and doubled flights to Vancouver to 14 a week in February, the carrier and its, Cathay Dragon, have cancelled more than half of their flights this month and March amid the outbreak. Elsewhere, United Airlines said it will
suspend all flights to and from Hong Kong through February 20.

"I just left on the last flight out of Hong Kong that United Airlines is allowing … will most likely return when United Airlines allows flights back," Derek Chapman said in a chat group for expats in Hong Kong on Friday, February 7.

The Hong Kong government's decision to
close all schools and kindergartens to help contain the spread of the deadly virus has also given the exodus a fillip.

A partner at an advisory firm in Hong Kong said his seven-year-old son had missed time at school because of the protests and was now at home because of the coronavirus. He and his wife were struggling to persuade their son to sit in front of a computer screen to learn online.

The exodus has also separated family members, with breadwinners staying back in Hong Kong to work. "I sent my family home to Canada. But we weren't worried about the virus. The school closure and lack of activities in the city more than anything else were what made us decide on it," Eric Hung said in a chat group. "I'm staying put," he added. "Still gotta work and pay bills."

"We dropped the kids (4 and 6) off with [their] grandparents in Ireland and have managed to get them into school/preschool there," Alexandra Byrne said in a post. "Heartbreaking dropping them off not quite knowing when you'll see them again."

A senior expat businessman said that his wife and two-and-a-half year-old daughter were in Taiwan whilst he continued to work in Hong Kong. He felt reassured they were leading a normal life instead of worrying that border restrictions would choke off the supply of everyday goods.

The number of local Chinese leaving Hong Kong is also picking up, according to anecdotal evidence, although the process is more convoluted for people without overseas passports. And some might not come back at all.

Tensions in the former British colony steadily ratcheted up during eight months of anti-government protests, and are now being amplified by the outbreak of Covid-19, the disease caused by the coronavirus.
Business has – as a result – slowed. Hong Kong's economy contracted for the first time in a decade last year and Financial Secretary Paul Chan Mo-po
said on February 2 that it could contract further in 2020, as the outbreak hits the bottom lines of retailers, restaurants, hotels and other businesses.

Taxi driver Samuel is feeling the business slowdown. He circled for three hours before picking up his first passenger last weekend, normally a busy time for him in the Hong Kong neighbourhood of Sai Kung. However, he considered himself "lucky", as his colleague radioed through from Hong Kong's airport that he had been waiting six hours for customers.

Double punch for Hong Kong's economy from coronavirus following months of civil unrest

The protests and the outbreak are proving to be catalysts for life decisions, giving an extra fillip to local residents who were already mulling a move, said John Hu, the founder of Hong Kong-based John Hu Migration Consulting. Sales at his company have risen fourfold over the past six months, with Australia and Canada the top picks among destinations for migrants.

He hosted a webinar on migration procedures recently and more than 100 people registered for the call, a record number, said Hu, whose grandchildren have already left Hong Kong to attend school in Australia.

"We are the only surviving industry," he joked.

Hongkongers who lived through Sars outbreak call for more government action against new coronavirus

Recruitment consultants have reported that business was slowing, partly because a hiring manager wanted to meet a job applicant in person before making a decision, but also because people were worried about coming to Hong Kong.

"I'm due to relocate to Hong Kong in March with my job … My feeling is to delay until this dies down, but not sure if I'm being overly cautious," Lucie Natalia Heim said in a chat group.

The exodus in Hong Kong is reminiscent of foreigners and locals fleeing Japan in the wake of the 2011 earthquake, tsunami and radiation leak. Offended locals who carried on working throughout the crisis, disparagingly nicknamed the escapees "flyjin", a play on gaijin, the Japanese word for foreigners.

Many of these flyjin came to Hong Kong temporarily and never returned as business took off in the financial hub and stagnated in Japan.

And as Hong Kong picks itself up after the epidemic abates, there will be hard choices to make. "Extended CNY holiday in Europe till probably early March, and permanently relocating end of March. I will miss Hong Kong for sure, but not the last 9 months!" Michelle Price said in a chat group.

Many local and foreign professionals in Hong Kong were already feeling the pressure as Hong Kong increasingly looked to China for business and mainland Chinese workers – who intimately understand the working culture – to employ.

China's economy is twice as big as it was in 2010, and Chinese companies have raised US$1.3 trillion in equity capital markets during the past decade, much of it via international investors in Hong Kong, according to data provider Refinitiv.

"People who have jobs and are getting paid can sustain the lifestyle, but it is not as much fun as it used to be. People are just tired after the protests and tensions have risen [again]," the senior businessman said. "There is a sense that opportunities aren't going to come as fast and frequently as before."

COMMENTS





Alison Tudor-Ackroyd

Alison is the Post's Finance Editor. Previously, she was Managing Editor of FinanceAsia; The Wall Street Journal's Asia Pacific Senior Finance Correspondent and before that Reuters' Asia Private Equity Correspondent. She has more than 20 years' experience reporting on finance while based in London, Milan, Paris, Tokyo and now Hong Kong. Alison has moderated panels at numerous summits from Sibos, Milken to Rise. In 2018, she was named Fintech Journalist of the Year and won Outstanding Contribution to Journalism in Asian press awards.
Bali Luxury Retirement Villas as low 2.8 Milyar
(* $184,888 U.S.D. or$268,888 Aus.)
You may now Invest, Vacation or retire full time or part-time in Bali while achieving very handsome returns with this freehold property for Indonesian buyers or over 80 years of leases for Foreign Buyers included in the purchase price starting at USD 184,888.
Click here to see full video on Bali Luxury Retirement Villas.