Best Asia real estate editor's comments:
Has the tide turned on Hong Kong real estate finally?
Hong Kong is what I call the Bitcoin of the real estate market. Like bitcoin it had no reason to go up other than the fact that there were more fools buying it, especially from mainland China.
With two consecutive months of downturn prices perhaps the greater fool theory has ended and Hong Kong will start to drop like Bitcoin. When it's over it may be down 60% from its highs.
It's too early to make this call so right now I'm neutral on Hong Kong real estate.
The only thing I do know those are much better greener, safer pastures to invest your real estate money in.
One is Bali which is only five hours from Hong Kong.
With China being the number one tourist to Bali ( which I predicted 10 Years ago when they were 18th) it's only a matter of time before they start buying Bali real estate the way they bought Singapore, Sydney, Melbourne, Brisbane, and finally New Zealand. All these markets they have been shunned lately by the government and they will definitely be buying Bali
Once they discover the profits that can be had here the next five years there will be a Tsunami of money flowing into Bali real estate from China.
Those that own Bali will will be sitting on top of huge profits in a few short years.
I've not been wrong on real estate markets around the world for 30 years and I'm not going to be wrong now.
If you want to find out how to participate in Bali real estate, where to buy what to buy, and how you can earn 10% to 20% per annum starting almost immediately come to my seminars next week in Bali.
They are absolutely free. You have nothing to lose and everything to gain.
See details of seminars after this article.
___________________________
Hong Kong home prices cool for second straight month
By Reuters• last updated: 31/10/2018
Now Reading:
Hong Kong home prices cool for second straight month as investment conditions worsen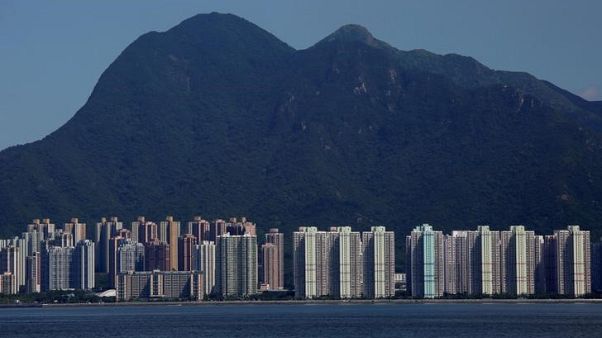 @ Copyright :Bobby Yip(Reuters)
HONG KONG (Reuters) - Hong Kong private home prices fell for the second straight month in September, as a global stock market rout and an intensifying Sino-U.S. trade war soured sentiment in the property market.
The fall last month followed the a decline in August, the first in 29 months in one of the world's least affordable property markets.
In September, prices eased 1.4 percent from August, government data showed, accelerating a decline from August's revised 0.08 percent slip.
However, prices are still elevated having risen 10.2 percent so far this year, and surging 14.1 percent in year-on-year terms in September, according to Reuters' calculations based on an index compiled by Hong Kong's Rating and Valuation Department.
Ultra low interest rates, limited housing supply and large capital flows from mainland Chinese buyers have helped push housing prices up more than 200 percent over a decade, prompting repeated warnings from authorities about the risks of an asset bubble.
The hot real estate prices have angered many residents and prompted the city's government to set aside plots of land for public housing and propose a vacancy tax on empty new homes to discourage developers from hoarding.
A flat of 60 square metre (646 sq ft) on Hong Kong Island cost an average of HK$10.87 million ($1.39 million) in September, according to official data.
An end of the ultra-low interest rate era has also pressured the property market.
Hong Kong commercial banks raised their benchmark lending rates in late September for the first time in 12 years, increasing the cost of home mortgage repayments. More hikes are expected into 2019.
The one-month Hong Kong Interbank Offered Rate (HIBOR) <HIMOR1M=>, which many mortgage plans link to, also hovered around a 10-year high level in the first half of the month, though it has pulled back over the past week.
Analysts now expect a 10 to 15 percent decline in property prices next year. Anticipating a correction ahead, more potential home buyers are staying on the sidelines.
"Uncertainties in the macro environment...together with continuing volatility in the stock market, have put buyers in a wait and see mood, especially in the secondary market," said Realtor Midland Hong Kong residential CEO Sammy Po.
Midland expected transactions in the secondary market in October to drop to their lowest since March 2016, with the number of new homes sold possibly exceeding the number of old homes sold for the first time since December 2015.
The new home market remained relatively stable given developers' efforts to lower selling prices, ramp up new launches and offer high-mortgage plans to boost sales and avoid paying the vacancy tax.
($1 = 7.8181 Hong Kong dollars)
(Reporting by Clare Jim; Editing by Sam Holmes)
________________________________
Whether you are a buyer, seller, broker, agent, investor, lessor or renter you can benefit from attending one of our two free Real Estate Seminars in Bali and Jakarta next month.
At these seminars PT. B.A.L.I's Canadian President, Lawrence, a 22 yr. Bali resident, President of 14 yr. old company with 135 staff, married to Azizah, a fully Licenced Notaris will review the most recent real estate laws for Indonesians and Foreigners in detail.
Bali seminar attendees January 2018
Then they will also provide a full colour audio, visual presentation with many professional charts on the Past, Present, and Future of Bali Real Estate.
Location:

Sanur, Bali, Emerald Villas,
1.
Thursday - Nov. 8th. 6:30 PM - 7:45 PM

2. Saturday - Nov. 10th. 2:00 PM - 3:15 PM
Location:

Bali, Emerald Villas, Jl. Karangsari, # 5, Sanur, Bali, Indonesia.
Limited Seating &

Free Parking:
Seating is very limited for these free seminars so please avoid disappointment and make reservations A.S.A.P.
Click Here For a Reservation
Or Email: seminarsptbali@gmail.com or Tel: Office: 62-361- 284069 For Bahasa English 62-8123814014 – Bahasa Indonesia or 62-8123632177
Seminar Topics:
At these seminars you will learn about:
The Past, Present and Future of Bali, Indonesia, Asian and Australian real estate.

Why a recent official clarification of foreign ownership laws allows foreigners to totally control Indonesian properties for up to 80 years without leases?

How to avoid legal problems and make sure a property is safe.

How to avoid complicated real estate laws affecting Indonesians married to foreigners.

Why this is the second best time to buy this century.

Where are the best locations to buy for maximum profits?

What type of properties will offer the best investment potential of *10% to 20 % per year?

Discover how you can sell your property fast for the highest prices and lowest commissions on a brand new web site designed after the largest most successful real estate site in America with high tech search features.

An opportunity for a free listing on B.A.R.E.

First Class Beachfront property at almost 50% discount.

A Quality 5,000 m2 Bali Hotel with 12 bungalows, 3 pools and Restaurant for only $588,000.

Low cost properties with Luxury Villas starting as low as $158,000 for a three bedroom 650 m² 3 bedroom, 4 bath with private 9 mtr. Pool.

Ridiculously low priced ocean view building lots starting as low as $25,000 for 500 m².

Brand new Bali Luxury Retirement Villas starting at $208.00 per mth.
Limited Seating &

Free Parking:
Seating is very limited for these free seminars so please avoid disappointment and make reservations A.S.A.P.
Click Here For a Reservation
Or Email: seminarsptbali@gmail.com or Tel: Office: 62-361- 284069 For Bahasa English 62-8123814014 – Bahasa Indonesia or 62-8123632177