Best Asia Real Estate editor's comments.
It appears that there is some bad news in the future for Australian investors in real estate and Ozzy dollars.
I just returned from Sydney and things are pretty gloomy there and most real estate markets are heading down
Now the Australian dollar is getting a lot of attention on the downside.
All this is not good for Aussie investors and retirees.
A wise Aussie investor would move into other currencies such as Canadian dollar and other real estate markets such as Bali where we've already had a 40% to 50% correction on many properties.
We are going to focus the next several years on providing low cost Bali Luxury Retirement homes consisting of two bedroom with private pool starting at $200,000 Australian.
Two bedroom with private pool starting at $200,000 Australian
Contact me for more information on this exciting opportunity. lbptabli@gmail.com or 62-8123814014
By Ruth Carson and
Y-Sing Liau
July 25, 2018, 4:00 AM GMT+8

Aussie will slide to 76.50 yen if trade war worsens, CIMB says

Speculative bets against Aussie climb to highest since 2016

LISTEN TO ARTICLE

2:11
SHARE THIS ARTICLE
Facebook
Twitter
LinkedIn
Email
In this article
AUD
Australian Dollar Spot
0.7424
AUD
+0.0001+0.0135%
JPY
Japanese Yen Spot
111.2000
JPY
+0.0000+0.0000%
8301
BANK OF JAPAN
43,000.00
JPY
+1,200.00+2.87%

The Australian dollar's top forecaster has a warning: the worst is yet to come.



Investors should short the Aussie versus the yen as increasing global-trade tensions weigh on the nation's exports, according to CIMB Bank Bhd. The currency is also poised to decline versus the U.S. dollar, says CIMB, which had the most accurate estimates for the Aussie in Bloomberg's second-quarter rankings.



"On all fronts, the U.S.-China trade war is Aussie-negative," said Marcus Wong, a treasury strategist at CIMB in Singapore. "Retaliatory action that inadvertently impacts the upstream or downstream of China's value chain, or leads to a keen deterioration in global risk sentiment, would see a further deterioration in the Aussie."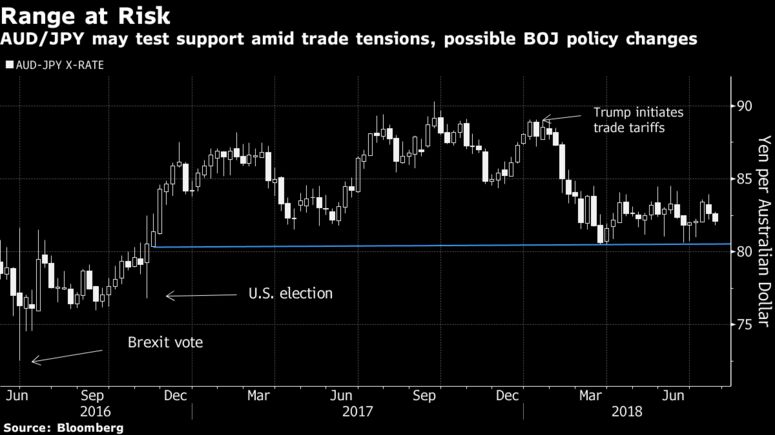 Investors should sell the Aussie against the yen with a short-term target of 80.50, CIMB's Wong said. If the U.S.-China dispute intensifies, Australia's currency may slide to 76.50 yen, which would be the lowest since September 2016, he said. The Aussie was at 82.08 yen on Tuesday.



The Aussie has dropped against all its Group-of-10 peers this year except Sweden's krona amid concern the U.S.-China trade dispute will cause China to reduce demand for Australian raw materials. The Reserve Bank of Australia kept its benchmark interest rate at a record low this month, saying the U.S. trade policy was causing uncertainties.

Just as the Aussie is weakening, speculation the Bank of Japan may unwind its ultra-loose monetary policy is boosting the yen. Japan's currency jumped 0.5 percent against the Aussie on Monday following reports the BOJ may discuss ways of reducing adverse effects of its stimulus when it meets next week.

Leveraged funds this month boosted bets to the highest in more than two years that the Australian dollar will weaken against the greenback. A net 22,126 contracts are wagering the currency will fall, compared with a net bullish position as recently as May.

Australia's currency has slumped 5.5 percent against the U.S. dollar this year and this month dropped to 73.11 U.S. cents, the lowest since January 2017. CIMB sees it sliding below 70 cents if the U.S.-China trade war escalates.

— With assistance by Michael G Wilson