Best Asia Real Estate Editor's Comments:
The below article points out the fact that baby boomers, after working a lifetime to achieve a certain degree of luxury don't want to give that all up.
That's why we are starting to develop 2,000 square-foot baby-boomer villas that can be custom-designed to have one huge master bedroom for around $200,000. For an additional 50,000 they can have an outdoor Jacuzzi and swimming pool,
Best of all there in Bali, one of the most sought after vacation locations in the world.
They can live here for and average of 60 to 70% cheaper than most Western cities.
See more details about living an excellent low cost lifestyle in Bali in your own private home at our free seminars coming up in Bali, Sydney and, Auckland in the coming months starting next week.
Details are below the the article immediately below this comment.
________________________________________________
Photographer: Kim Sargent/Sargent Photography
Real Estate

Turns out, it's hard to really use a 10,000-square-foot mansion when your kids move out.By
James Tarmy
May 17, 2018, 4:23 PM GMT+8

Ten years ago, interior designer Rela Gleason faced a conundrum as she began to build her own house in Napa Valley, Calif.

"We had grown children and grandchildren, but they were only going to be there for a small amount of time," Gleason says.

She and her husband wanted to have a house that could accommodate their whole, growing family. "But on the other hand," she says, "we didn't want to live in a big house and pass through a lot of empty rooms that felt lonely" when the family wasn't there.

Her solution was to build a 10,000-square-foot housecomprising multiple, detached pavilions. "We wanted big, soaring living spaces—I wanted a big family room so that when the family was there, we could all be together," she says. "But we basically live in the master suite and the kitchen."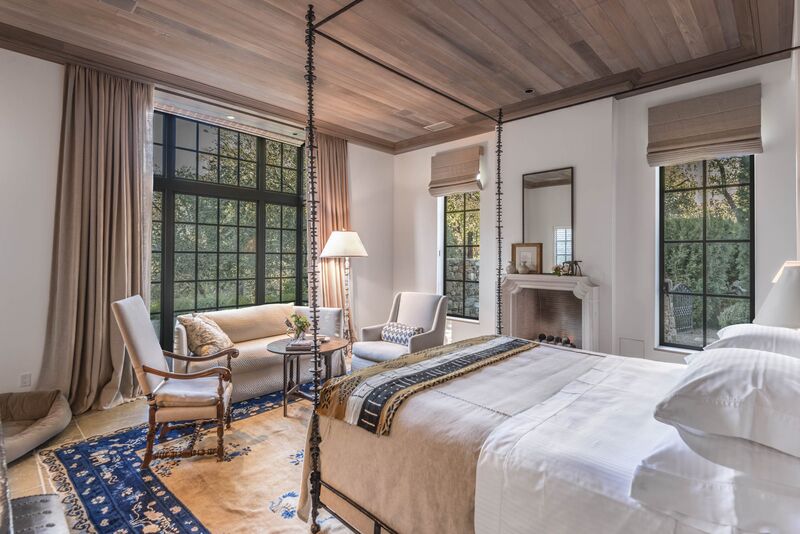 Designer Rela Gleason's Napa compound is broken up into livable pavilions.
Source: Sotheby's International Realty

Many affluent baby boomers have found themselves in a similar position: Their children are gone, but for whatever reason—a need to entertain on occasion, or simply an unwillingness to part with their belongings—they refuse to scale down and instead are increasingly taking refuge in elaborate master suites that serve as apartments within a much larger home.
Evolving Lifestyles

"We're seeing an evolution of the way that people live," saysMichael Graves, a broker for Douglas Elliman Real Estate. "Maybe 20 or 30 years ago, you'd go to your bedroom when you were going to sleep. But now the function of the master bedroom has changed where it's a living space as well."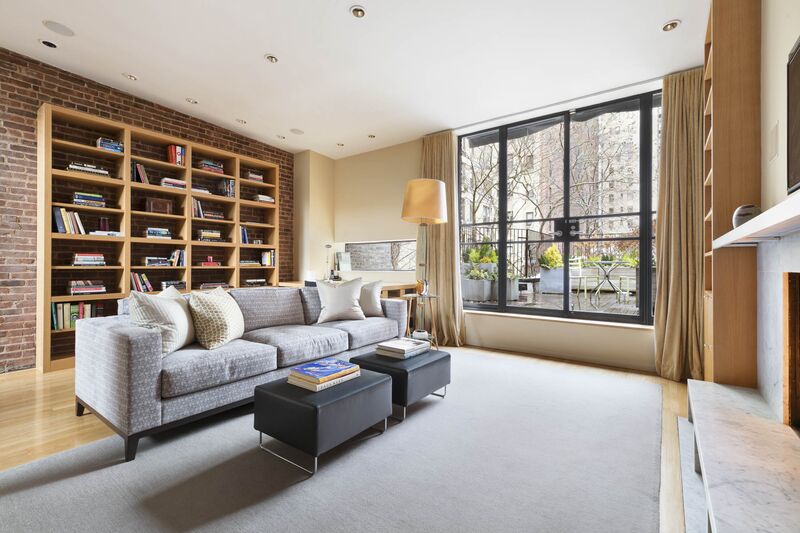 The master suite of 68 East 91st St. in New York takes up an entire townhouse floor.
Source: Douglas Elliman Real Estate

In one $11.8 million townhouse on the Upper East Side that Graves co- represents with the broker Justin Rubinstein, the master suite takes up the entire top floor. "You can spend your entire evening there," he says.

There's no hard data on the prevalence of these suites or the ways people use them, so the information is anecdotal. But in speaking with top brokers across the country, the trend appears to transcend geography.

"I've been seeing it more and more," says Jill Shore, a broker for Douglas Elliman in Aspen, Colo. "It used to be, if you had a built-in refrigerator, that was a big deal."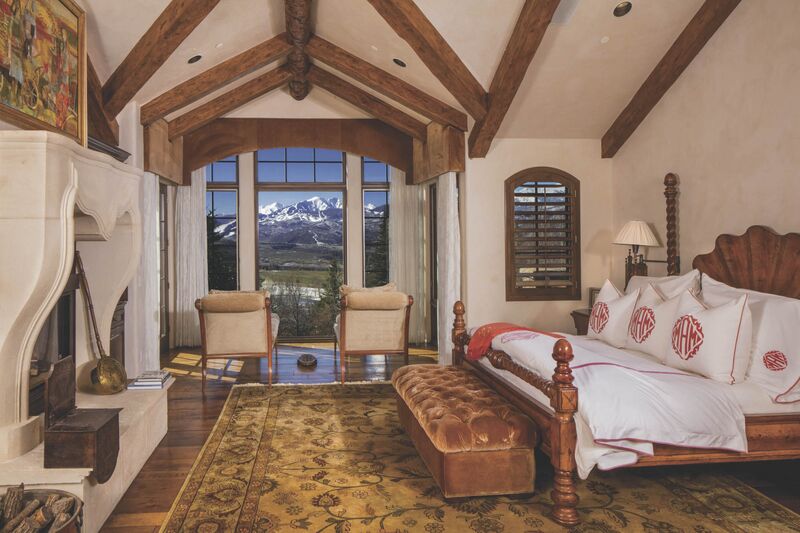 The master bedroom of the Aspen house.
Source: Douglas Elliman Real Estate

In one 12,191-square-foot Aspen home Shore represents, an elevator goes straight from the garage to the master bedroom, which has its own office, gym, fridge, sink, and coffee maker.

Shore has listed that house for $25 million. "It used to be that you had to build a really great kitchen," she says. "You still do, but you also have to build a really great master."

"I'm thinking living rooms are the opposite of what they're called, because no one lives in them anymore," she continues. "People build cozy dens off the kitchen or master bedroom, because that's where everyone gathers, while the living room collects dust."
A Lifestyle Choice

This isn't the first time giant master bedrooms have been in vogue: A $4.65 million house in Boca Raton, Fla., built in the late 1980s, has a master suite that includes a bedroom, bathroom, office, family room, bar, and gym—but brokers say it's only recently that buyers have begun to specify that master suites resemble stand-alone apartments.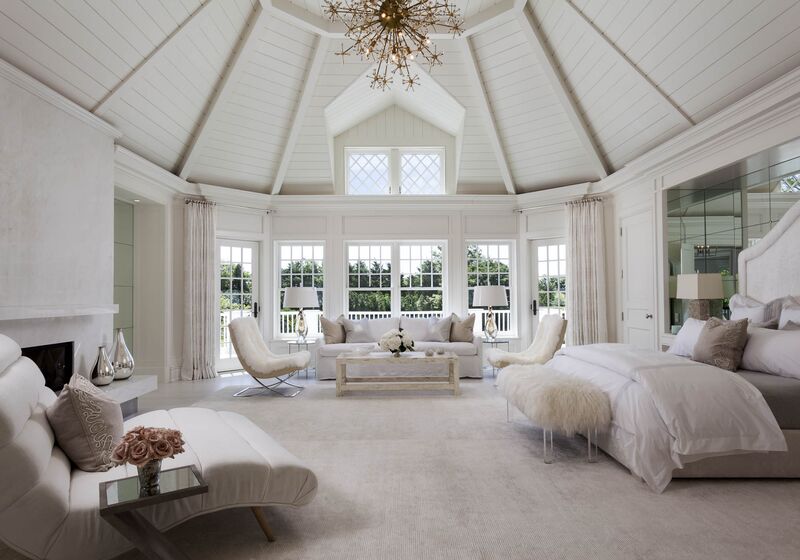 The master suite of a new, $39.5 million house in Southampton, N.Y.
Photographer: Kim Sargent/Sargent Photography

Today, people spending more than $10 million for a house want "things like wet bars, drawing rooms, dressing rooms, and oversized bathrooms" in master suites, Graves says. "Before," he says, people wouldn't really expect those things."

"It's very lifestyle-driven," says Tim Davis, a broker for Corcoran who's based in New York's Hamptons. "It's a very European way of living, where they're shutting off part of the house."

Davis, who renovated his own home to create a master suite after his children left for college ("It enables us to have this separate apartment that's self-contained"), says many of the luxury homebuyers in the Hamptons "haven't grown up with wealth, and some don't know how to live that way."

When they see giant master suites at hotels or "spend enormous amounts of money renting villas or resorts, they've figured out that's how people want to live, and they say: "Why can't I do that and spoil myself?" Davis says.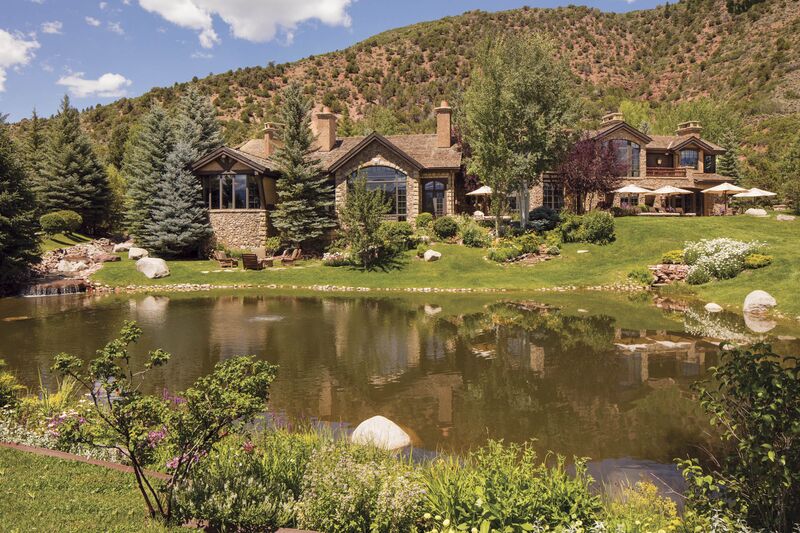 The exterior of the Aspen house Jill Shore represents, which sits on 17 acres.
Photographer: Steve Mundinger

Developers, he says, have taken note. "We advise our developer clients [who are building homes on spec] to build the master suite on the first floor," he says. "Or, if it's on the second floor, then they should make sure there's an elevator that goes to the space." One $39.5 million new home in Southampton, N.Y., which Davis co-lists with broker Gary DePersia, has just that: a master suite with a sitting room and two bathrooms, which can be accessed by elevator.

It's not just to accommodate an aging, wealthy buyer pool, Davis explains; it might just be about "getting luggage into closets."
Hard to Let Go

There's a certain irony to the fact that baby boomers in giant houses have begun living in suites the size of a starter apartment in Brooklyn. It's doubled by the fact that this is almost exclusively a feature used by the very wealthy.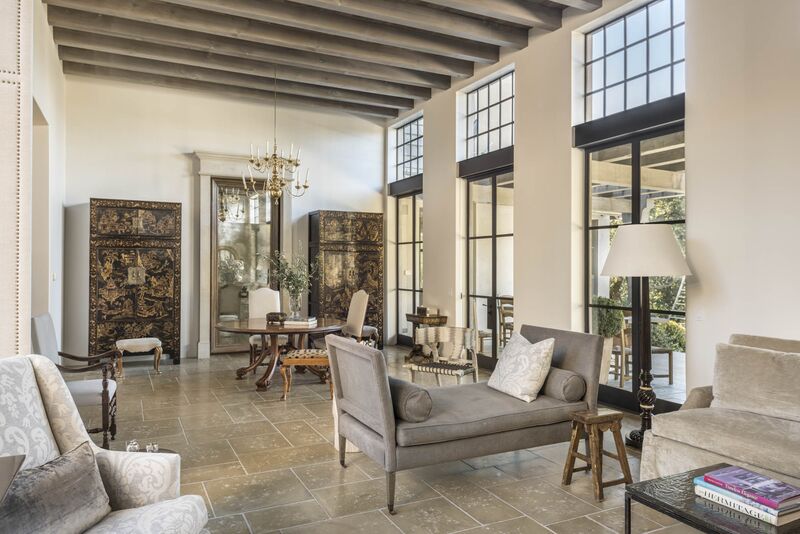 A living area in Gleason's Napa, Calif., house.
Source: Sotheby's International Realty

But from the standpoint of Gleason, the Napa Valley homeowner, it's understandable. "We really need very little, and we prefer more intimate spaces," she says. "But when you come from a large residence—psychologically, it's hard to give up the sense of living big."

Even Gleason, though, has decided that her 10,000-square-foot compound—designed specifically to accommodate two people or 20—is too much to handle. She's put it on the market with Ginger Martin of Sotheby's International Realty for $17 million.

"We're 72 years old, and we know that this isn't a property that's going to [sell] overnight," she says of the house, which was featured in Architectural Digest.

"When you get to be 80 years old, you don't want to be living on 40 acres."
_____________________________
Denpasar, May 05 2018

According to PT. Bali Affordable Lifestyles International. (PT. B.A.L.I.) who have managed award winning PT. Bali Luxury Villas for the past 13 years, an ever increasing numbers of Baby Boomers are retiring in Bali each year.
Fact is that 25% of the world's population, born between 1946 and 1964 labelled as the baby boom generation are now retiring.

A large portion of those boomers are currently living near Bali will want to retire here adding a whole new demand for Bali real estate for the next five to ten years.

PT. B.A.L.I. reveals that of the 55 Luxury villas that they manage less than 5% were occupied by Baby Boomers 13 years ago. Now over 25% are full-time retirees.
P.T. B.A.L.I.'s research department has recently concluded that in the coming years Asian and Australian baby boomers, within a few hours flight from Bali will choose Bali as their retirement location.

For example, in Australia it is estimated that 25% of its 25 million population are baby boomers.
That means there are going to be 6,250,000 boomers seeking less-expensive, more comfortable retirement locations soon.
According to a
recent poll
"50 % of Australians are now buying outside of Australia". Bali will certainly be on their short list.
"50 % of Australians buying outside Australia"

Add another estimated 1% of the 1,250,000 New Zealand Baby Boomers and Bali may have a huge increase in real estate demand from these two counties alone.
If Bali only receives 1%, of those Boomers that is 6,250 Australian and 1,250 New Zealand baby boomers seeking to buy or lease a Bali home for the next five to twenty years.
Add to that new demands from the 1 % of boomers from Japan, China, Korea, Taiwan, Singapore and Jakarta who want to retire in Bali that is another 7.5 Million buyers.
You don't have a P.H.D. in Economics to conclude that these new demands on Bali's limited real estate supply will drive demand and prices through the roof the next five to ten years.
The reasons for Australian's retiring in Bali are numerous. As one long time Australian resident of PT Bali Luxury Villas in Sanur stated, "it just doesn't get any better than Bali". The cost of living that is estimated to be over 60 % less than Australia is one of the biggest draws
Here are the main reasons Baby Boomers are retiring in Bali.
According to research competed this month by PT. B.A.L.I., Overall Bali is 62% less expensive for baby boomers to live than in Sydney or Auckland.
Home prices are 60% to 70% less to rent, lease or purchase.
Transportation is also 60% to 70% less.
Proximity to Australia, 6 ½ hrs. to Sydney, 2 ½ hrs. to Perth or Darwin.
Bali's crime rate Index is 30 versus Sydney at 38, or 21 % less.
Great year-round Average temperature of 30°C.
Balinese are some of the friendliest and most honest people in the world.
Large 2-bedroom, 2-Bath Luxury Villas with private pool starting as low as $200,000.


Discover how you can retire in Bali and live in luxury with private maids for a fraction of what it cost in the west. Attendance is free and thoroughly educational from a 21-year expert on Bali real estate.


Free Seminar Schedule:



1.

Bali:

Thursday - May. 24th. 6:30 PM - 7:45 PM. Emerald Villas, Sanur, SIGN UP HERE

2.

Sydney:

Saturday - June. 23rd. 2:00 PM - 3:45 PM SIGN UP HERE

3.

Sydney:

Tuesday - June. 26th 6:30 PM - 7:45 PM SIGN UP HERE
4.

Auckland:

Thursday - July. 19th 6:30 PM - 7:45 PM SIGN UP HERE
5.

Auckland:

Saturday - July. 21st 2:00 PM - 3:45 PM SIGN UP HERE

Seating is very limited.

Avoid disappointment sign up now or obtain more information.
Email: seminarsptbali@gmail.com or
Tel: Office: 62-361- 284069
For Bahasa English 62-8123814014 – Bahasa Indonesia or 62-8123632177


At these seminars you will learn about:

-The Past, Present and Future of Bali and Indonesian real estate.
-Why a recent official clarification of foreign ownership laws allows foreigners to totally control Indonesian properties for up to 80 years.
-How to avoid legal problems and make sure a property is safe.
-How to avoid complicated real estate laws affecting Indonesians married to foreigners.
-Why this is the second-best time to buy this century.
-Where are the best locations to retire buy for maximum profits? -What type of properties will offer the best retirement benefits and investment potential of *10% to 20 % per year?
-Discover how you can sell your property fast for the highest prices and lowest commissions on a brand-new web site designed after the largest most successful real estate site in America with high tech search features.
-An opportunity for a free listing on B.A.R.E. First Class Beachfront property at almost 50% discount.
-Low cost properties with Luxury Villas starting as low as U.S. $158,000 for a three-bedroom 650 m² 3-bedroom, 4 baths with private 9 mtr. Pool.
-Ridiculously low-priced ocean view building lots starting as low as U.S. $25,000 for 500 m².
-Ocean front property in first class complex at 50 % off 2014 prices. Brand new retirement villas starting at U.S. $195,000.
- Brand New First time offered two bedroom, two bath 200 m2 private Bali Luxury Retirement Villas stating at $198,000.


Free Seminar Schedule:

1.

Bali:

Thursday - May. 24th. 6:30 PM - 7:45 PM. Emerald Villas, Sanur, SIGN UP HERE

2.

Sydney:

Saturday - June. 23rd. 2:00 PM - 3:45 PM SIGN UP HERE

3.

Sydney:

Tuesday - June. 26th 6:30 PM - 7:45 PM SIGN UP HERE
4.

Auckland:

Thursday - July. 19th 6:30 PM - 7:45 PM SIGN UP HERE
5.

Auckland:

Saturday - July. 21st 2:00 PM - 3:45 PM SIGN UP HERE




*Important Notice. Seminars are informational seminars only. No sales or orders will be taken at the seminars. The location of the Sydney and Auckland seminars will be announced after we determine the size of audience the week before the seminars.




Pt. Bali Affordable Lifestyles International (PT. B.A.L.I.). does business as Best Asia Real Estate and Manages PT. Bali Luxury Villas
Partner, Notaris Azizah , Owner, President Lawrence
It is owned by a Canadian 21 year resident of Bali who is a Developer, Realtor, and Hotel General Manager.
His partner and spouse is a fully licensed Indonesian Notaris with a master's degree in Indonesian Law specializing in real estate, corporate and Marital documentation.
Their 135 professional staff provide a one stop professional, efficient location for Buying, Selling, Leasing and Renting Asian Real Estate.
135 Staff Strong Award Winning PT. B.A.L.I.
They are a Seven-time Consecutive Certificate of Excellence recipient on the Worlds Largest Travel Site. This places them among the top 10 % of hotels and villas listed by Tripadvisor worldwide.
"
Recipients Hall of Fame Award, awarded to only 2 % of the Hotels listed on TripAdvisor World Wide"
Tel. Office:
62-361-284069

Fax:

62-361-270143
Branch Office:
Bali Paradise Beach Estates, Pantai Purnama
Mobile: or WhatsApp:
English:

62-8123814014

Bahasa Indonesia:

62-8113864993

Email:

lawrenceptbali@gmail.com

Skype:

baliagents
Disclaimer: All information presented above is considered true and reliable to the best of our knowledge at the time that it was published. Information and prices may change without notice. The owners of PT. BALI AFFORDABLE LIFESTYLES INTERNATIONAL doing business as BEST ASIA REAL ESTATE and PT. BALI LUXURY VILLAS accept no responsibility for incorrect information listed herein. All recommendations may lose value in the future.