Best Asia Real Estate editor's comments:
This is what I've been warning about for Australia real estate prices in every major city except except perhaps Perth may be in jeopardy has bankruptcies are increasing.
Editor Lawrence Dictating Newsletter in Macau
If more people have less money then they have less money to pay for real estate and now that the Chinese have been scared out of the market there is not many buyers left.
Better sell your Australian real estate and moved to Bali where you can live like a king and make a fortune in real estate at what I believe is the second best time to buy real estate this century.
You can search the latest low-price properties at www.bestasiarealestate.com

By Leith van Onselen

With real wages falling for five consecutive years: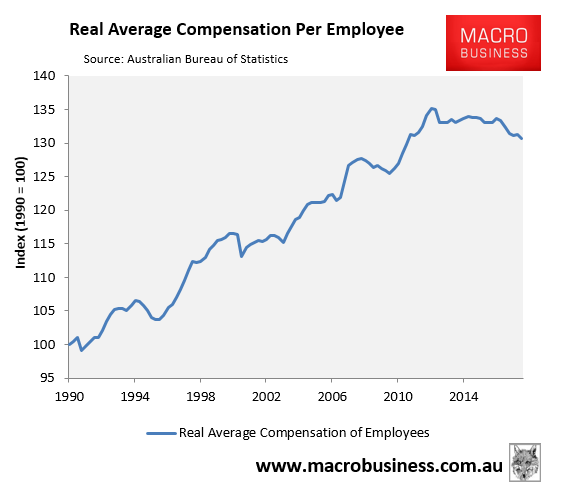 And the ratio of household debt-to-disposable income hitting a double-ton: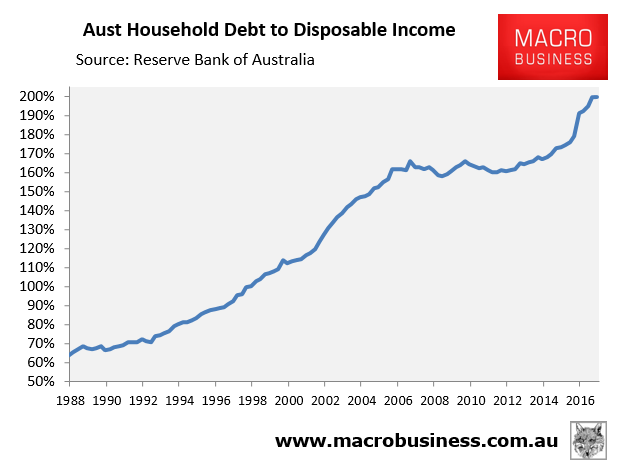 The Australian reports that there has been a surge in bankruptcies:
The number of Australians who filed for bankruptcy surged last year amid record mortgages and lacklustre wage growth.

More than 32,000 Australians went bankrupt in 2017, a 6.1 per cent rise from the prior year, according to new data released by credit information bureau illion.

It comes after the number of bankrupted Australians rose 4.7 per cent in 2016, compared to 2015.

"Consumer debt levels are rising steadily in Australia as a result of record mortgages and a surge in everyday essentials such as utilities, petrol and healthcare," said illion chief executive Simon Bligh.

"These factors, combined with weak wage growth, are putting pressure on the wallets of Australians"…

The report found that people filing for bankruptcy are getting younger, with the average age at 40.9 years in 2017, compared to the average age of 46.7 years back in 2013.

This is a perfect symbol of the Australian economy, which is traveling smoothly at the aggregate level thanks to the people flood, but where individual living standards are declining, especially among the young.

unconventionaleconomist@hotmail.com