This Asia real estate editor's comments:
I
There has been several articles reflecting positive sentiment for Singapore real estate the last few months.


I pride myself on the fact that I predicted a downturn in Singapore four years ago when hardly anybody was bearish.
Now it appears there may be an change in direction and prices may have rebounded and started back up.Only time will tell.
The only problem is there's probably very few properties in Singapore that offer positive cash flow which is my first and major acid test for any real estate investment market in the world.
There are much greener pastures in Asia such as Vietnam Philippines and especially Bali, Indonesia where have already mirrored Singapore with a downturn that brought prices down as much as 50%.
Bali like Singapore has turned around and is starting back up and is what I believe is the second-best opportunity to buy this century.
The difference between Singapore and Bali is that Bali offers tremendous cash flows.
For example this three-bedroom luxury villa can still be purchased for as little as $159,000 which has recent proven monthly incomes of $3,000 -$4,000.
Three-bedroom luxury villa can still be purchased for as little as $159,000
January 10, 2018, 10:53 AM GMT
Credit Suisse, Morgan Stanley see home prices rising in 2019
Housing recovery will extend through 2019, Morgan Stanley says.

Credit Suisse Group AG and Morgan Stanley are calling the end of Singapore's property downturn, after a second consecutive quarterly increase in private residential prices.


Home prices may rise as much as 10 percent this year, according to analysts at Credit Suisse, while Morgan Stanley and OCBC Investment Research expect as much as an 8 percent increase, according to reports from the brokerage firms.

Private residential prices rose for a second straight quarter in the period ended Dec. 31, reinforcing signs that the city-state's property market is emerging from a four-year slump. For 2017, prices rose 1 percent compared with a 3.1 percent decline in 2016, data from the Urban Redevelopment Authority showed.

Developer valuations remain attractive, according to Credit Suisse, whose top stock pick is UOL Group Ltd. due to its high exposure to Singapore and its residential market. UOL is also one of two developers cited by OCBC as having the best prospects. City Developments Ltd. is Morgan Stanley's favorite, and also one of OCBC's best picks.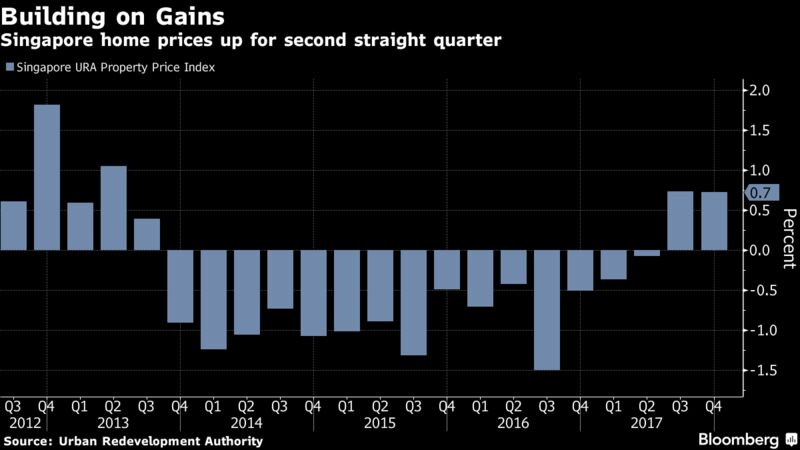 Here's what the analysts said about their outlook for Singapore property:Collective sales, or "en-bloc" deals, valued at S$8.3 billion ($6.2 billion) last year should continue to enhance the property market in 2018: Credit Suisse
Homes sales may increase 40% in 2018: Morgan Stanley
Housing recovery will extend through 2019; potential government cooling measures pose risk but such moves may be premature as market is just two quarters into a recovery:
Morgan Stanley
Surge in home completions from 2021 could begin to dampen sentiment but prices could double by 2030: Morgan Stanley
New home sales estimated at 12,000 to 15,000 units in 2018; rental prices to climb between 5% and 10% this year: OCBC