Best Asia Real Estate Editor's Comments:
One of the things that have made a point of in my recent real estate seminars is a the huge influx of baby boomers in the coming years.
An estimated 25 % of the worlds population that are baby boomers will not only cause a huge increase in tourism but also directly proportional will be a huge increase in retirees who will wish to live out their golden ears on the best Island in the world.
When they discover the low cost of living, clean warm comfortable all year round temperatures, friendly low cost domestic help at less than $250 per month and of course as I always say the $10 massage in the comfort of your own home they will surely come to Bali in droves and buy homes to live at least 5 to 10 years.
When you look at the close proximity of Bali to some of the major population centres of the world such as China and Japan Korea and even Australia you can see that Bali should definitely benefit from the "silver tsunami"
Best Asia Real Estate Blog editor's comments – As I said a few weeks ago, the current downturn in Sydney, Australia real estate prices is not temporary but will begin to increase exponentially as more people get scared out of the market.
You may also attend my first free Bali Real Estate Seminars of 2018 - See full description of seminar below article or click on this post.
FREE SEMINARS
_________________________________________________
Local hospitals anticipating rise in baby boomer patients



By Traci L. Miller | The Herald Bulletin
Jan 21, 2018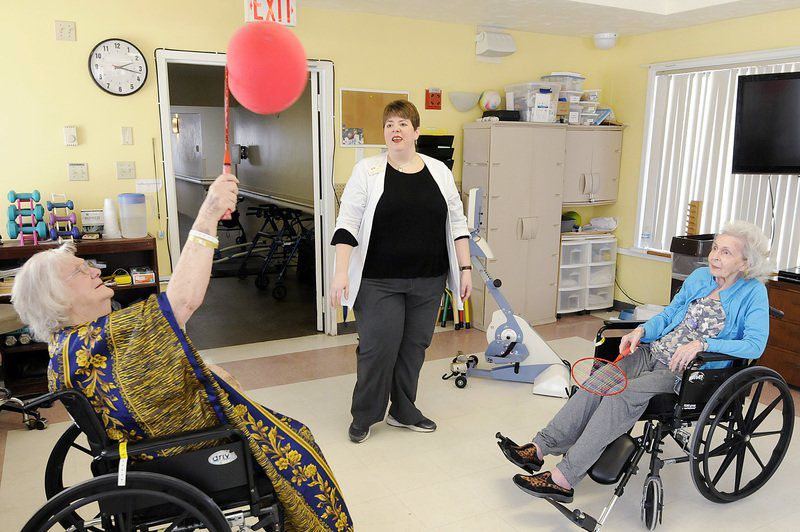 Don Knight | The Herald BulletinOccupational therapist Kathy Moore looks on as Retha Bell, left, and Phyllis Bryant hit a balloon back and forth in an exercise to work on their coordination at Community Northview Care Center on Friday.

ANDERSON — Beth Harpe is on the front lines when it comes to predicting the arrival of a national phenomenon called a "silver tsunami" in Madison County.

"We know it's coming and we are preparing for it," she said.

Harpe is the executive director of Community Long Term Care, an affiliate organization for Community Hospital Anderson that manages senior living facilities in Madison County.

"We really haven't seen the influx — yet — of the baby boomers," Harpe said. "That will be over the next five to 10 years. What we are starting to see in this area is younger people who come in and are sicker with multiple, chronic illnesses."

Harpe defined the "silver tsunami," — a metaphor often used to describe a rapid rise in the aging population — as a massive number of retiring baby boomers predicted to flood the health care system.

She said preventative actions are being taken now in hopes of easing a strain on the services offered within the community by a rapid increase of older patients.

The number of Americans age 65 and older is expected to more than double to 98 million in 2060, according to the Population Reference Bureau report, "Aging in the United States."

Baby boomers, born between 1946 and 1964, will soon enter the health care system, according to the report.

St. Vincent officials say they have been preparing for many years for the increased number of baby boomers who will require care.

"As baby boomers are reaching retirement age, many caregivers are leaving the workforce, creating the need for us at the same time to develop more efficient ways to care for more patients with fewer resources," said Marlene Frazier Carey, communications director for St. Vincent's Northeast Region.

Harpe said there has not been a visible increase in older patients, at this point, because Medicare is pushing for more home- and community-based services.

"That allows people to stay home longer," Harpe said. "The one thing health care is doing to prepare for the influx in patients is to work more closely with the hospitals and skilled nursing facilities and home care to help have a smoother transition of care.

"We know with this huge amount of people coming into the healthcare system, they have to be at the lowest level of care. That is the most cost-effective for Medicare and Medicaid which is helping to pay for this system."

Harpe described the steps being taken as proactive in nature, and everyone seems to be preparing.

"We had a representative from a health maintenance organization who was talking to us about expanding services here and she said they are preparing for their numbers to triple in this area in the next five to 10 years," Harpe said.

Katie Elliott, an oncology quality and navigation manager at Community Hospital Anderson, said in the cancer sector they are expanding the number of patient navigators to better serve their patients.

"They are the ones who help navigate the patient through the healthcare continuum," she said. "They help them with organizing all their appointments, making sure they are making it to those appointments and finding resources if they aren't able to make it themselves.

"The physicians talking to the patients and the navigators are there to kind of help them on the back end to make sure they don't have any questions, make sure they understand their treatment plans, and make them feel more comfortable with the process."

Like Harpe, Elliott said they are seeing all ages when it comes to new patients, but "unfortunately they seem to be getting younger instead of older."

"Even though the tsunami is coming, we are seeing elderly patients and they do require different care than our younger population," she said. "That is where our navigators are here to help with that."

Michele Hockwalt, a marketing and communications manager at Community Hospital Anderson, said the specialized navigators are invaluable.

"This is especially useful for the older population, I feel, because they have that one contact," she said. "There are so many of our older people in this area who are so very financially insecure and have transportation issues and can't drive. That navigator can really help meet their unique needs."

Hockwalt said while the silver tsunami may not be in place, they are seeing extensive growth in the senior communities.

"Many, many years ago projections were made by health care and long-term care companies and they started to prepare for it because they knew the baby boomers were aging up very soon," she said.

"We have been preparing for many years to have an expanded bandwidth here."

Mark Rohlfing, a trauma program manager at Community Hospital Anderson, said predicting a silver tsunami is difficult, especially for Madison County.

"When I look at Anderson and Muncie, there are a lot of old, retired factory workers who stayed around because of their family," Rohlfing said. "I feel like, in my world, we already have a high population of elderly patients. You may not feel that surge coming at you because of that. At least that is how I perceive it."

Rohlfing said while the specifics might be hard to pinpoint, the hospital has the resources to take care of the large number of patients predicted.

"Even in the extended care facilities, I think they have ramped up," he said. "We really don't have any trouble with placement issues. There is a greater bandwidth and we do have places to put those patients."

He said he is unsure what the influx of senior patients will look like, but prevention is the key to preventing an overburdened health system.

"I think the smart thing is for us to work ahead of the curve doing the things we are doing and doing what we can, such as treating things early, catching things early and do what we can before the patients get sick," he said.

Hockwalt said the hospital plans to focus on addressing community needs, whatever those needs become.

"We have known this is coming for a long time," she said. "We know what our population's needs are and we are constantly working towards those needs. We know we have older, sicker people now. We don't feel like we are surprised. We've known about it and we are prepared for it."

"There are no surprises," Rohlfing said.

Follow Traci L. Miller @_TraciMiller on Twitter, email her at traci.miller@heraldbulletin.com, or call her at 765-640-4805.
_______________________________________________
Are you tired of traditional investments such as banks and bonds that only offer 1-6% per year which do not keep pace with the real inflation.
Do you want to become rich the way over 60 % of self-made millionaires did?
According to PT. B.A.L.I., Bali's leading real estate expert for the past 13 years, who have thousands of satisfied clients, this is the "Second best time to purchase Bali Real Estate this century".
They believe that recent changes in real estate laws for foreigners allowing them to obtain control for more than a normal lifetime and up to 70% bank financing is creating a huge new demand for Indonesian and Bali Real Estate.
Coupled with the fact that Bali Real Estate has just undergone the first correction in modern history with prices down as much as 50 % this has set the stage for *increases of 20% to 100 % the next three to five years.
Free Bali Real Estate Seminars:
Whether you are a buyer, seller, broker, agent, investor, lessor or renter you can benefit from attending one of our two free Real Estate Seminars in Bali this month.
At these seminars PT. B.A.L.I's Canadian President, Lawrence, a 21 yr. Bali resident who is married to Azizah, a fully Licenced Notaris will review the most recent real estate laws for Indonesians and Foreigners in detail.
Then they will also discuss the Past, Present, and Future of Indonesian Bali Real Estate.
Free Seminar Schedule:
Bali, Emerald Villas, Jl. Karangsari, # 5, Sanur, Bali, Indonesia.
1.
Wednesday - Jan. 31st. 6:30 PM - 7:45 PM
2.
Saturday - Feb. 3rd. 2:00 PM - 3:45 PM.
3.
Thursday - Feb. 15th.. 6:30 PM - 7:45 PM
4.
Saturday - Feb. 17th. 2:00 PM - 3:45 PM.
Seminar Topics:
At these seminars you will learn about:
The Past, Present and Future of Bali and Indonesian real estate.

Why a recent official clarification of foreign ownership laws allows foreigners to totally control Indonesian properties for up to 80 years without leases?

Why Indonesian banks will now lend money on Indonesian Real Estate to foreigners, therefore proving leverage and additional huge profits?

How to avoid legal problems and make sure a property is safe. How to avoid complicated real estate laws affecting Indonesians married to foreigners.

Why this is the second best time to buy this century.

Where are the best locations to buy for maximum profits?

What type of properties will offer the best investment potential of *10% to 20 % per year?

Discover how you can sell your property fast for the highest prices and lowest commissions on a brand new web site designed after the largest most successful real estate site in America with high tech search features.

An opportunity for a free listing on B.A.R.E. First Class Beachfront property at almost 50% discount.

A Quality 5,000 m2 Bali Hotel with 12 bungalows, 3 pools and Restaurant for only $588,000.

Low cost properties with Luxury Villas starting as low as $138,000 for a three bedroom 650 m² 3 bedroom, 4 bath with private 9 mtr. Pool. Ridiculously low priced ocean view building lots starting as low as $25,000 for 500 m².
Limited Seating:
Free Parking. Seating is very limited for these free seminars so please avoid disappointment and make reservations A.S.A.P.
Click Here For a Reservation
Or Email: seminarsptbali@gmail.com or Tel: Office: 62-361- 284069 For Bahasa English 62-8123814014 – Bahasa Indonesia or 62-8123632177