Bali & World News and Views Mount Agung - Volcanic Activity Update.
As stated in the article below by the government monitoring the current volcanic activity at Mount Agung "
Quake activity was not as sharp as two days"
This does not mean that we should let our guard down.
It is important to note even if we have a full blow eruption similar to the worse one in modern history in 1963 most major tourist areas have nothing to fear.
As can be seen in 1963 the eruption affected only a small area of the Island and was far away from the tourist areas.
BNPB prepared for Mount Agung eruption: Head

Ni Komang Erviani
The Jakarta Post
Denpasar, Bali | Wed, September 20, 2017 | 08:18 pm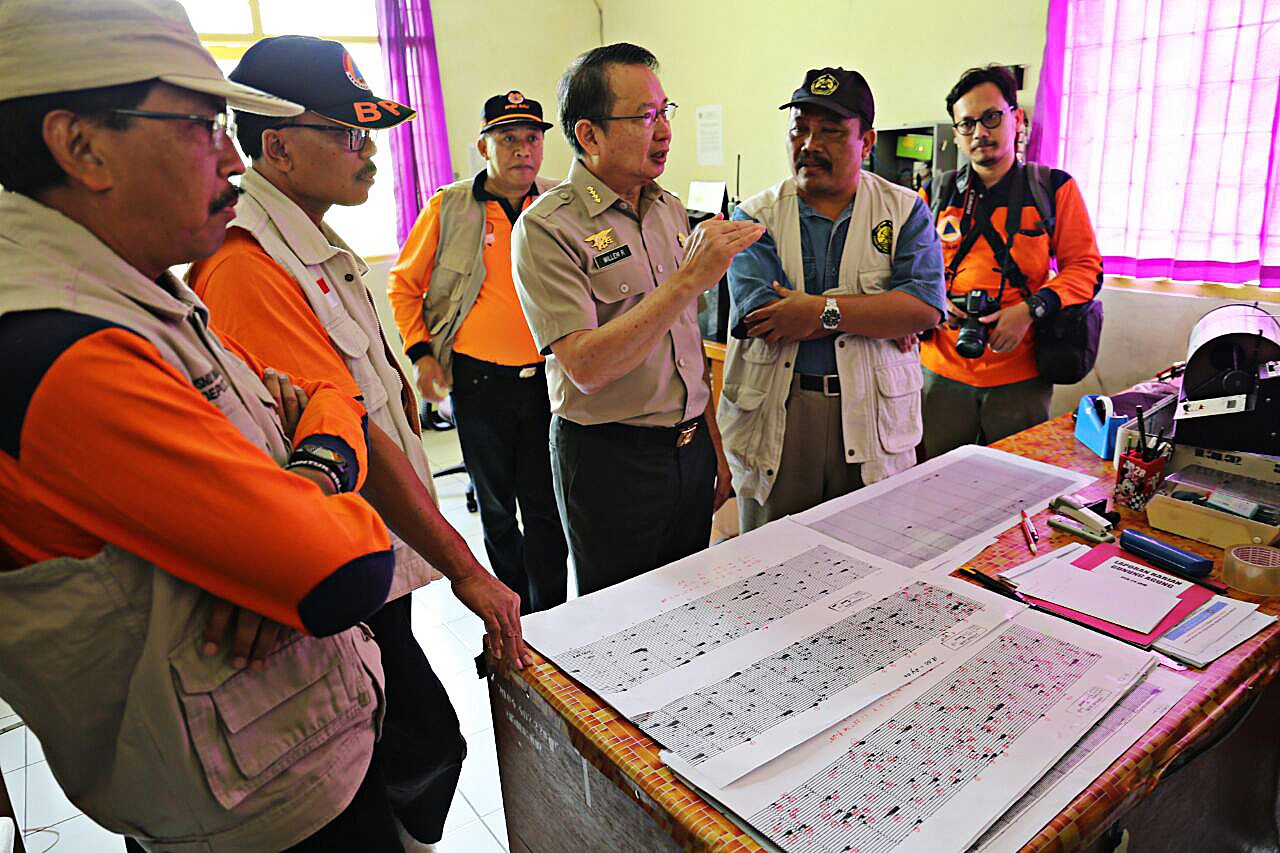 All ready: National Disaster Mitigation Agency (BNPB) head Willem Rampangilei (center) talks to local authorities about the potential eruption of Mount Agung during a visit to the volcano's observation post in Bali on Sept. 20. (Courtesy of the BNPB/File)

National Disaster Mitigation Agency (BNPB) head Willem Rampangilei said on Wednesday that the government took measures to anticipate the eruption of Mount Agung in Karangasem, Bali.

The volcano alert status has been increased to Siaga, the third level on the alert scale, due to an increase in the volcano's seismic activity.

"The BNPB will continue to provide assistance to regional disaster mitigation agencies [BPBDs] in taking anticipatory measures against the possible eruption of Mt. Agung [...]," he said during his visit to the Mt. Agung observation post.

(Read also: Mount Agung activity on the rise: Agency)

Willem said the BNPB's prevention and preparation deputy head assisted BPBD officials in mapping out a contingency plan to anticipate the eruption of Mt. Agung.

The observation post revealed that as of 6 a.m. local time on Wednesday, it recorded 94 instances of volcanic tremor, while in the previous day, 427 tremors were recorded.

"Although its quake activity was not as sharp as two days ago, there were 480 seconds of tremor. The epicenter of the quake is located only 2 kilometers from the surface and the depth of magma is only 5 km; hence, all people must stay alert," said an observation post official.

"I wanted to check on whether the early warning system ran in line with our standard operating procedure and, if the volcano erupts, how the evacuation processes will be conducted and where the residents will be evacuated to. We aim to strengthen communication among institutions so that people can get information as quickly as possible," said Willem. (ebf)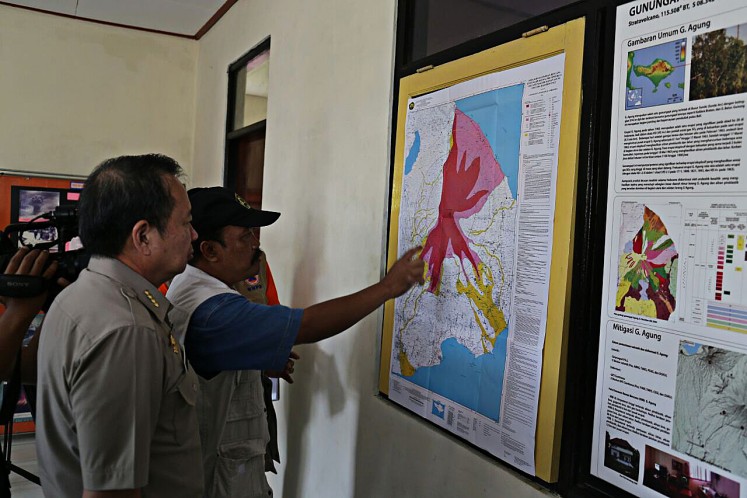 Get ready: An official at the observation post of Mount Agung, Bali, points out the risk zone of the volcano during the visit of National Disaster Mitigation Agency (BNPB) head Willem Rampangilei (left) on Sept. 20 (Courtesy of the BNPB/File)