Bali + World News & Views Editors Comments:
Editor Lawrence
All 100 + of us at PT Bali Affordable Lifestyles International. PT Bali Luxury Villas my family and I want to congratulate President Joko Widodo (Jokowi) for being chosen 2019 Asian of The Year By Singapore's Straits Times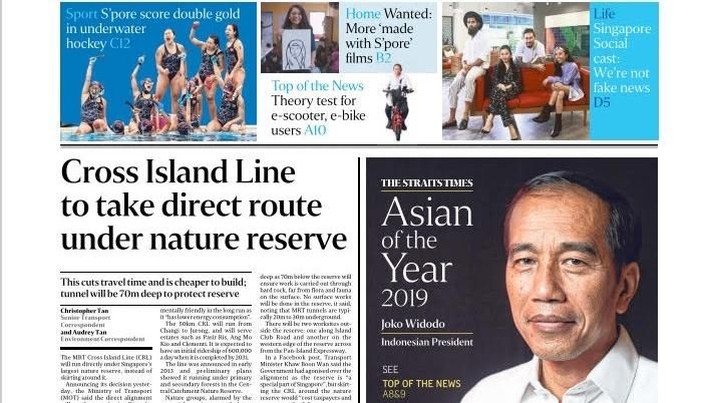 Photo: Jokowi Received 2019 Asian of The Year Award (Screenshot of The Strait Times)
Having lived in Indonesia for 22 years I can tell you that President Jokowi is one of the best presidents that Indonesia has ever had.
I have observed with my own eyes his cabinets' economic accomplishments including the Trans Java Freeway which I had that pleasure to travel on recently with my family.
Now he is taking the initiative to move the capital of Indonesia from Jakarta to Kalimantan which will be a huge feat and create many jobs.
Most importantly it will move the government from the congested, polluted gridlocked city of Jakarta to a new modern city which no doubt will be a major showcase.
As an employer, I have seen his government provide modern-day benefits to Indonesian workers such as healthcare, pension, and unemployment insurance.
At first, it was a small hindrance to employers but has been taken up in the overall economy.
It's not easy being the president of the fourth largest country and
the world's largest island country, with more than seventeen thousand islands,[12]
It's 1,904,569 square kilometres (735,358 square miles), makes it the 14th largest by land area and 7th in the combined sea and land area.
[13] With over 267 million people, it is the world's 4th most populous country as well as the most populous Muslim-majority country.[14]
I've often said in my blog, posts and my seminars that "Indonesia is not a rising Tiger. It is a roaring lion that was just let out of its cage". With Pres. Jokowi's professional leadership it is about to take over Asia economically.
After all, we have the world's fourth-largest population and abundant natural resources. Most importantly we have a labour force that is the least expensive in most of Asia.
They have the eye of the Tiger and are willing to work harder and at 70 % less cost than most Asian countries who have become fat and lazy recently.
My Indonesian family Including my Notaris Wife Azizah and two great boys are honored and blessed to be able to prosper with the assistance Jokowi's leadership and our 100+ staff and their families.
1/3 of our staff at PT. Bali Affordable Lifestyles International
& PT Bali Luxury Villas
Thank you Jokowi for making Indonesia and Bali safer, healthier, more educated and improving our reputation throughout the world.
Thank you to the Singapore Times for recognizing President Jokowi as this year's Asian leader of the year.
_________________________________

Jakarta, CNBC Indonesia - President Joko Widodo (Jokowi) received the 2019 Asian of The Year award from Singapore's Straits Times, Thursday (12/5/2019).

The award was given because Jokowi is considered as a unifying figure in a time full of chaos and disorder in Indonesia.

Read: Congratulations! Jokowi Wins 2019 Asian of the Year Award

"Jokowi was chosen by the editor because of his agility and seriousness in navigating the complicated domestic political flow and international affairs," the magazine wrote.

"His down-to-earth personality, ability to connect with people, empathize with commoners has attracted the hearts of many in his country."

"Abroad, they laud their ability to look beyond the horizon and grapple with the strategic challenges facing the country and region."

According to this media, one example of the achievement of the former Mayor of Solo was the international world, among others, its success in placing Indonesia as the heart of ASEAN.

"Jokowi made the leaders of member countries adopt the 'ASEAN Outlook on the Indo-Pacific' designed by Indonesia, at the ASEAN meeting in Bangkok in June and which maintained the neutral position of regional groups amid increasing competition between China and the United States (US) for supremacy in the countries of the region. " explained the Straits Times.

Jokowi also became the leader who first introduced the concept of cooperation based on key principles, including Asean's openness, inclusiveness, and centrality, at the East Asia Summit in Singapore last November.

Meanwhile, Chief Editor of the Singapore Press Holdings and The Straits Times editor Warren Fernandez said there were a number of things that made his party award Jokowi.

"President Joko Widodo has done very well. He has not only won a second term, but has also brought Indonesia with him and brought him more advanced," he said.

"Likewise with Asean.

Besides Jokowi, a number of state leaders also received this award. Among these are Singapore's founding Prime Minister Lee Kuan Yew, Indian Prime Minister Narendra Modi and Chinese President Xi Jinping.

________________________________

The fact that Indonesia's leader won this award is just one more reason why baby boomers from around the world who represent 25% of the world's population will feel more safe and comfortable investing and or retiring full-time part-time in Bali and other parts of Indonesia.

With clean air, great year-round weather, first-class hotels, restaurants stores and improving inexpensive healthcare plus a cost of living that is 70% less than most major cities there is no question in my mind that Bali will be one of the retirements centers of the world.
Bali Luxury Retirement Villas as low 2.8 Milyar
(* $184,888 U.S.D. or$268,888 Aus.)
You may now Invest, Vacation or retire full time or part-time in Bali while achieving very handsome returns with this freehold property for Indonesian buyers or over 80 years of leases for Foreign Buyers included in the purchase price starting at USD 184,888.
Click here to see full video on Bali Luxury Retirement Villas.

The Morrison government clearly has much more to do to clean up Australia's dirty money trade than bash the banks for their failings.